R. Grant Ingram Distinguished Speakers Series
Thanks to the generosity of Dr. Helen Burt, Grant Ingram's wife and St. John's College Senior Fellows, the Grant Ingram Distinguished Speaker Series was established at St. John's College to honour Dr. R. Grant Ingram, founding Principal of St. John's College contributions to the College by bringing in speakers in areas which were of particular interest to him.  A Visiting Lecturer is to be invited annually to spend a period in resident at St. John's College and give public talks which will focus on the following general themes: Aboriginal issues, including poverty, health, education, environment, youth or housing; environment and sustainability, including climate change, marine conservation, water resources, polar research, or biodiversity; women in science, including contributions made by women scientists, and the working climate.
Dr. Ingram (1945 – 2007) was a distinguished physical oceanographer, in addition to his work as founding Principal of St. John's College, he was Dean of Science Pro Tem, Strategic Planning and research in the Faculty of Science, and Principal of Interdisciplinary Studies.
---
2017/18
2017 UBC Reads Sustainability with Duncan McCue
---
2016/17
September 30, 2016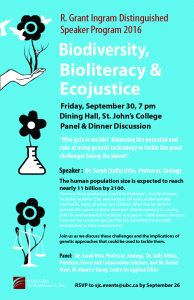 "Who gets to decide?  Balancing the potentials and risks of using genetic technology to tackle the great challenges facing the planet"
The human population size is expected to reach nearly 11 billion by 2100.
How can food production meet this challenge?  Deadly diseases, including malaria, Zika, and dengue, kill half a million people worldwide, many of whom are children. What can be done to prevent the spread of these diseases?  Global warming is causing shifts in environmental conditions at a rate of ~1000 meters per year.  How can we conserve species that are becoming increasingly mismatched to their environment?  As our knowledge of genomics has increased, new genetic technologies have emerged that can help tackle these challenges.  Some involve genetic engineering, some not, but each raises its own social, ethical, and policy questions.  Join us as we discuss these challenges and the implications of genetic approaches that could be used to tackle them.
---
2013/14
October 25, 2013 "An Evening with Larry Grant", Elder Larry Grant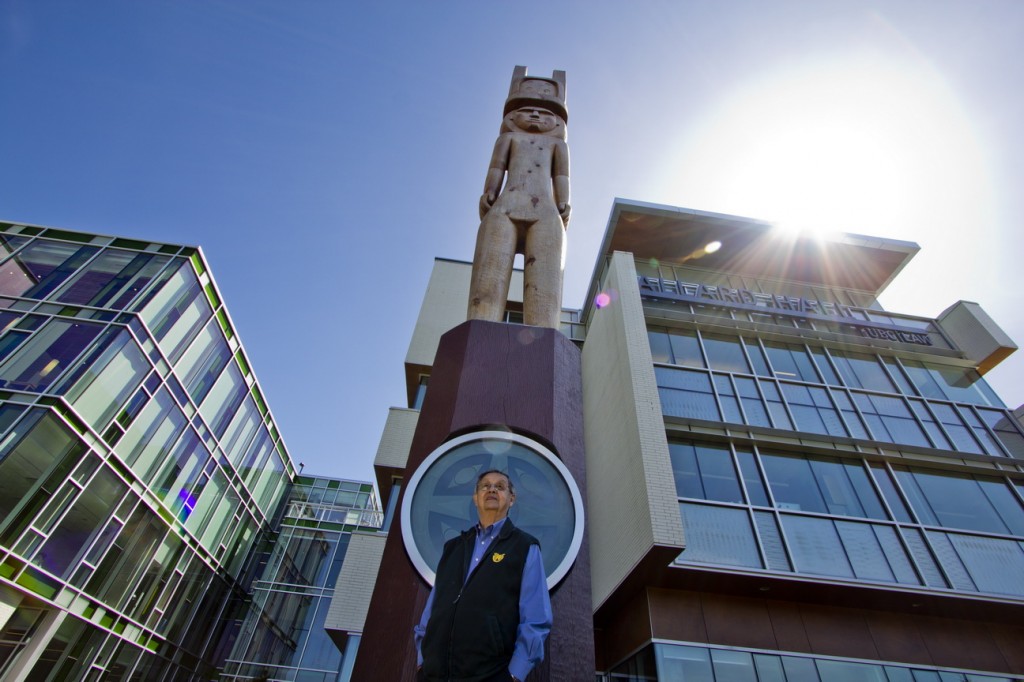 ---
2011/12
September 26, 2011 "Seasons of the Arctic: An Inuit Perspective", Dr. SHARI GEARHEARD, ESA QILLAQ, and RAYGEE PALITUQ
---
Inaugural –  2009/10
October 22, 2009 "Living Traditions:  Windigo's and Indigenous Law" An Integrated Anishenabek Academic Story Dr. JOHN BORROWS,  J.D., LL.M., Ph.D.